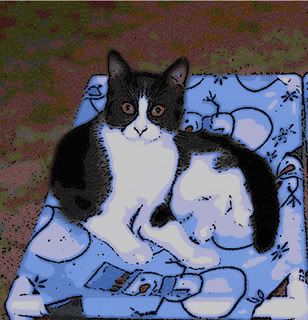 We're almost done with our Photobucket photo-enhancing fun week here at Purrchance To Dream, with Pete in the "cartoon" function.
With the toon function, select a photo that has lots of contrast, then enhance the color saturation first. Then cartoonize it.
With all these Photobucket photos this week, I did the photo enhancing first, then edited the pictures for size. Which is very easy to do with Photobucket. I mean, for a free service, I am very happy with Photobucket's features and user-friendliness.
We have one more fun picture to share tomorrow!