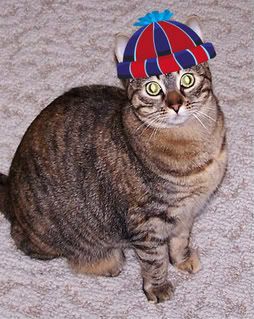 Unlike our friend Daisy, none of us Purries like to wear hats.
So we cheated a bit for today's
Photo Hunters
and used the "stickers" function in
Photobucket
to add a hat to Daphne's picture.
For how a real hat looks on a cat, please
visit Daisy
today!
And to see an Orangutan in a Photobucket hat, visit
today's
It's A Blog Eat Blog World.
Meow For Now
The Purries