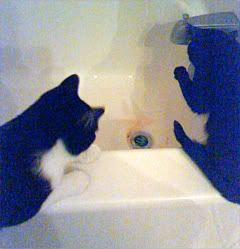 Yesterday, I noticed that Pete and Little Isis were hanging around the bathtub. Apparently, I hadn't shut off the water all the way when I'd showered, and a steady little drip was coming out. Pete was watching Isis try to thwap the water droplets, and I had to laugh because when her paw got wet, she would shake it and splash Pete. Sorry for the picture quality - I just grabbed my cell phone to get the pic.
Pete likes to sit on the edge of the tub and shower with me, never getting fully drenched, but wet nonetheless. He leaves little wet footprints around the bathroom and washes himself as I towel off.
Do your cats like to get wet?
~ Not The Mama
Click on the graphic below
to see this week's Manic Monday linkies: